A combination of all the strengths and resources available within a community, society or organization that can reduce the level of risk, or the effects of a disaster. Capacity may include physical, institutional, social or economic means as well as skilled personal or collective attributes such as leadership and management. Capacity may also be described as capability. Some examples of capacity are: permanent houses, ownership of land, adequate food and income sources, family and community support in times of crisis, local knowledge, good leadership etc.
Types of Capacities in Disaster Management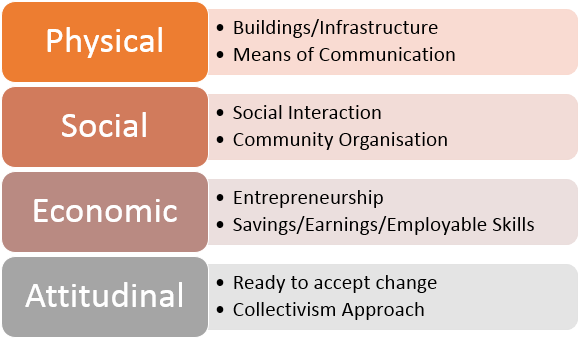 1. Physical capacity
Physical capacity of a community or an area includes the equipment available, means of communication, infrastructure available in the area like bridges, roads, hospitals, schools, drainage etc. Availability of new water sources for drinking, irrigation and other purposes can also be counted in physical capacity. Indigenous engineering and construction skills to build and repair infrastructure are also a part of physical capacity.
2. Social Capacity
Social capacity includes the interpersonal and intrapersonal links in the community, relations and motivations among the people and the amount of interaction between people. During and after a disaster has struck in an area the ability of the local people to take action and guarantee the sustainability of the ongoing projects. In some areas communities have organized themselves on street-level or village level and have built small organizations for help in case of disasters or carrying our other welfare activities in the area on volunteering basis e.g. CSO, youth organizations, CBOs etc.
3. Economic Capacity
Economics capacity comprises of the income of the community or an area, their savings, earnings, production, business activities and availability of jobs and livelihoods. This capacity also includes employable skills like mining, weaving, etc. GDP/ GNP of an area describes its economic capacity.
4. Attitudinal Capacity
People fight and resist against plans and strategies that are not in line with their culture, ideology or religion and this can limit their capacity and increase their vulnerability to disasters. Having positive attitude towards involvement of women in community decision making, high awareness on social issues and high motivation for projects which are of mutual benefit for whole of the community can be regarded as an attitudinal capacity of a community e.g. if people have 'We perception' instead of 'I perception' this brings a feeling and attitude of collectivism as opposed to individualism in a society.